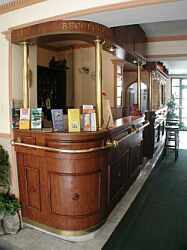 We don't support this hotel at the moment, we don't recommend it. Please choose another hotel at more favourable prices in the area: Hotel Zuglo Budapest - Hotel Happy Budapest - Hotel Hid Budapest - Hotel Polus Budapest - Hotel Lucky Budapest
Hotel Gold Pest *** ~ the family guest house
The nicely renovated guest house welcomes the tired travelers with flowers in the warm and homely atmosphere created by the tiny street's tidy white houses. The guest house is in the green part of Budapest, next to the downtown but far from the noise. You can easily reach the business and entertainment center, the Convention Center and the City Park where are famous museums, the popular Széchenyi Thermal Bath and the Heroes' Square with our past kings. Here is all the fun for children and several surprises for adults: Zoo, Fun Park, Circus,...
Comfortable, colonial furnished rooms make your sleep calm and your work pleasant. All rooms are equipped with bathroom (bath or shower), colour TV with satellite channels (BBC, Eurosport, RTL, NTV, RaiUno, TV5), telephone and radio. Upon request: hairdryer, fridge, non-smoking room and extra bed.
The guarded parking facility, the big buffet breakfast, the camera controlled reception desk and the multilingual, caring staff can ensure both an enjoyable and a secure stay.
You can simply and quickly reach your destination by bus or by traditional vehicles: choose the first underground in Europe (100 years old) and the trams and trolley buses.
Surrounding restaurants:
Portos Restaurant - 10 min walk
Trófea Restaurant - 10 min walk
Mátyás Restaurant - 10 min walk
Gundel Restaurant - 10 min by bus
Robinson Restaurant - 10 min by bus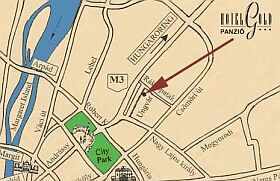 Reservation only with credit card guarantee
Prices per room/night
Prices include: buffet breakfast, local tax, VAT
Discounts for the children:
- children under 5 years sleeping in the parents'bed: gratis
- children under 12 years staying in extra bed in the parents' room: 6 Eur/extra bed
Reservations may be cancelled 48 hours prior to check-in day, otherwise the hotel will charge 1 night room rate and will credit the balance to your card.