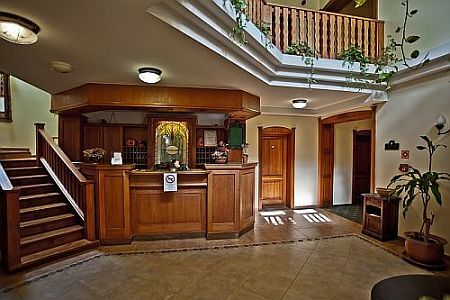 Gastland M1 Restaurant & Hotel
Finally a place where you don't need to miss your loved ones while on business. If by chance you spend a few days here either attending a conference or a course, we will try to ease your burden. We will tend to your family's comfort and entertainment. We recommend our hostel to tired travellers, as well as to bigger or smaller tourist groups.
The 3-star Hotel Gastland M1 is located next to the highway M1, at 22nd km, at the rest place Sasfészek-tó. The hotel can be reached in 10 minutes by car from Budapest.
The rooms and the restaurants of the country-style hotel reserve the traditional, Hungarian style mixed with the European rustic style.
Hotel Gastland M1 offers 21 double rooms with air conditioning, 1 apartment for 4 persons, 3 larger double rooms, 7 triple rooms and 6 hostel rooms. The standard rooms has bathroom with bath tub or shower, colour TV with satellite channels, minibar, safe, telephone, WiFi Internet connection. The hostel rooms are 4-, 5-, 6- and 7-bedded rooms with bathroom.
The guests can also enjoy the sauna in the hotel.
The hotel's a'la carte restaurant offers great variety of dishes for 100 persons.
Besides the above services garden, terrace, wine cellar for 50 persons, grill garden, non-stop drink bar and café await the guests.
The hotel guests can place their car in the hotel's monitored parking free of charge.
Hotel Gastland M1 has well equipped event rooms and conference rooms of many different sizes. The conference room with artificial lighting is appropriate for holding both corporate programmes as well as family events for max. 160 persons. The smaller rooms with natural light have a max. capacity of 40 persons.
Other hotels in Hungary operated by the management:
Hotel Gastland M1 *** - Paty - 3-star hotel next to the highway M1 in Paty - Gastland M1 Páty

Hotel Gastland M0 *** - Budapest/Szigetszentmiklós - 3-star hotel in Szigetszentmiklos
Hotel Gastland Atrium *** - Rabafüzes - hotel near the Austrian-Hungarian border
Hotel Falukozpont Ujhartyan *** - Ujhartyan - Discount hotel near M5 highway, only 15 minutes from Budapest
Restaurant Székely Tanya Étterem - Rönök
The room rates include the staying, the use of the sauna, Internet connection, the parking and the taxes.
Buffet breakfast: 6 EUR/ person / occasion.
Pets: 5 EUR/ night.