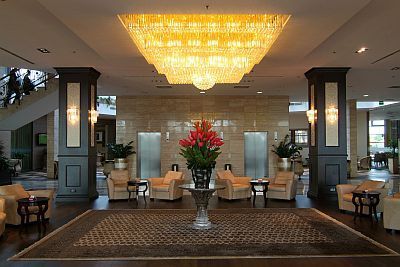 HOTEL AQUAWOLD RESORT BUDAPEST **** - AFFORDABLE HOTEL AQUAWORLD In BUDAPEST
The four-star superior Aquaworld Resort Budapest offers unique services. The conference and wellness hotel has 309 rooms, suites and apartments with internet connection; a conference centre with a capacity of almost 1000; an independent spa, wellness and fitness unit; an entertainment centre; indoor and outdoor car parks with a capacity of almost 1000 and direct access to Aquaworld, one of the biggest indoor water theme parks in Europe.
The hotel rooms are comfortable and radiate elegance; their interior design and furnishings comply with the Aquaworld Resort brand specification.
The main hotel building has 261 rooms, including 28 junior suites, 8 suites and 2 presidential suites with additional luxury, and special rooms for disabled guests.
The apartment house connected to the Hotel has 48 two- and three-roomed apartments which provide a homely feeling to guests staying for a longer time or with their family, with every advantage of the four-star service.
The Oriental Spa, Wellness and Fitness Centre of the hotel offers an extensive range of leisure and beauty services.
The Oriental Spa delimited by glass walls, together with its outdoor section open throughout the year is an isle of peace, and the shrine-like dusky mandala bath area as well as the connecting but separate Sauna World with its nature section, Hamam bath, Finnish sauna, steam bath and pleasant rest area provide for undisturbed relaxation assisted by a most attentive staff.
The Beauty Farm of the Wellness Centre accessible from the bath offers beauty programmes and the services of the hairdressing saloon. Guests can choose from various massage treatments, including underwater massage in specially designed bathtubs, as becomes their needs and mood.
The Hotel Conference Centre has a capacity of almost 1000, excellent natural light conditions as well as air-conditioning, internet connection and a good supply of the most up-to-date technical equipment.
The largest conference room has a capacity of 550. Mobile walls allow to create as many as 15 section rooms of different sizes. The uppermost, 8th, storey of the hotel hosts a banquet room with a capacity of 200, ideal for exclusive events, which can be enlarged with terraces overlooking the Danube.
Aquaworld Budapest, located next to the hotel, is a very special incentive venue indeed.
Hotel Aquaworld Resort Budapest has a bigger repertoire of in-house entertainment facilities than any other establishment in Budapest.
Depending on the occasion and their mood, guests may choose the services of the large-capacity restaurant with buffet meal and private banquet room, the elegant à la carte restaurant, the pub complete with panorama terrace in the summer, the café in the Hotel lobby and the bar in the quiet bath area, which offer excellent domestic and international dishes throughout the day.
The uppermost storey of the hotel has an excellent panorama, and it is an ideal venue for exclusive events.
The separate entertainment centre created under the apartment house connected to the Hotel will have a movie room, an extra-size plasma TV, DVD player, a card room and a billiard and gaming room. Its pleasant cigar room and bar will be ideal for conversations with old and new acquaintances.
The youngest guests can enjoy themselves in a carefully designed playhouse, under adult supervision.
The room rates include: accommodation, use of the Oriental Spa, Wellness and Fitness Centre (relaxation pool, heated outdoor pool, mandala bath, saunas, steam bath, fitness room), bathrobe use, free wireless Internet connection, open-air parking, VAT.
Local tax: 4% of room rate extra to pay.

Extra bed over 14 years: 15 EUR/ night.
Garage: 8 EUR/ car / day.
Pet: 17 EUR/ night.
Buffet breakfast: 16 EUR/ person / occasion
Half board dinner: 22 EUR/ person / occasion

Discounts for children:
Children under 7 years stay free of charge.
Between 7-14 years the extra bed price is 8 EUR/night.
Breakfast and dinner for children:
Under 7 years free of charge, between 7-14 years 50% discount

Aquaworld entrance fee for hotel guests: 10 EUR/ person / day.

Use of extra bed:
Twin and double rooms can be equipped with extra bed for children up to 7 years.
Junior suites and suites can be equipped with extra bed for 1 adult or for max. 2 children.
Presidental suites can not be equipped with extra bed.
Apartments can be equipped with extra bed for 1 adult or for max. 2 children.
Cancellation policy: Cancellation is free of charge 48 hours prior to arrival. In case of late cancellation or no show the first night will be charged.