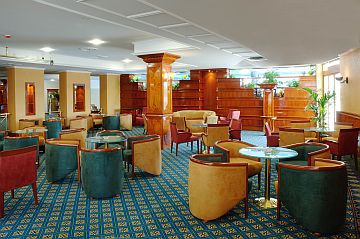 Polus Palace Thermal Golf Club Hotel*****

Dear Guests! We have to inform you, that we are not distributing the Hotel at this time. Thank you for your understanding. Other Discount Wellness Hotels: Abacus Wellness Hotel Herceghalom **** four-star hotel ih Herceghalom, with grand wellness area, Thermal Hotel Visegrád **** discount thermal Hotel in Visegrád with half-board packages, Tó Wellness Hotel Bánk **** near Lake-Banki with wellness centrum.

It is a great pleasure for us that we opened the most modern 5-star wellness- and golf-hotel in God.

The town of God is located between Dunakeszi and Vac, 20 kms to the north of Budapest. Only 20 minutes from downtown, Polus Palace Thermal Golf Club Hotel***** is Budapest's most fascinating and most easily accessible golf hotel. According to the tendences of nowardays' tourism, we offer a wide selection of leisure and business possibilities in this truly unique place where refined taste and friendly atmosphere join in flawless harmony. A full array of services creates a unique environment for recreation and entertainment found only at the most exclusive upscale properties throughout the country.

Our hotel satisfies the needs of the most demanding travelers with its 58 spacious rooms and suites. Our hotel offers rooms for non-smokers and we also have room specially designed for handicapped people. Tastefully furnished rooms equipped with the latest technology range from Superior and Superior Plus to Junior, Deluxe and Presidential suites.

Superior rooms (28): 40 m²

Hall: 2 wardrobes + bag holder, wall standing mirror

Room: colour TV (with satellite TV, Pay-TV), TV console, minibar, direct dial telephone with voice mail, radio, Internet access, PC data port, in-room safe, armchair, footrest, coffee-table, twin bed, 2 night tables, ottoman, writing-dressing table with chair

Separated toilet

Bathroom: corner tub, towel dryer heater, phone, hairdryer, shaving mirror, electricity: 220V

Other: individually controlled air-conditioning, online locking system


Superior Plus rooms (16): 52 m²

Hall: 2 wardrobes + bag holder, wall standing mirror

Room: colour TV (with satellite TV, Pay-TV), TV console, minibar, direct dial telephone with voice mail, radio, Internet access, PC data port, in-room safe, trundle sofa (2 persons), armchair, pouffe, coffee-table, king size bed, 2 night tables, ottoman, writing-dressing table with chair

Separated toilet

Bathroom: corner tub, towel dryer heater, phone, hairdryer, shaving mirror, electricity: 220V

Other: individually controlled air-conditioning, online locking system


Junior Suite

Hall: 2 wardrobes with bag holder, coat-rack, wall standing mirror

Separated wardrobe room

Living-room: 1 commode, colour TV (with satellite TV, Pay-TV), TV console, small table for phone, direct dial telephone with voice mail, radio, Internet access, PC data port, in-room safe, bar, barcounter, 2 bar stool with minibar, trundle sofa (2 persons), 2 armchairs, footrest, pouffe, coffee-table with 2 chairs

Bedroom: king size bed, 2 night tables, ottoman, writing-dressing table with chair

Separated toilet, bidet, wash-hand-basin

Bathroom: toilet, shower, corner tub, towel dryer heater, phone, hairdryer, shaving mirror, electricity: 220V

Other: individually controlled air-conditioning, online locking system


DeLuxe Family Suite

Hall: hall bench, 2 wardrobes with bag holder, wall standing mirror

Living-room: 1 commode, 1 console table, colour TV (with satellite TV, Pay-TV), TV console, small table for phone, direct dial telephone with voice mail, radio, Internet access, PC data port, in-room safe, bar, barcounter, 2 bar stool with minibar, trundle sofa (2 persons), 2 armchairs, footrest, coffee-table with 2 chairs

2 bedrooms: king size bed, 2 night tables, ottoman, writing-dressing table with chair, twin bed, 2 night tables, ottoman, writing-dressing table with chair, 1 commode

Separated toilet, bidet, wash-hand-basin

Bathroom: toilet, shower, corner tub, towel dryer heater, phone, hairdryer, shaving mirror, electricity: 220V

Other: individually controlled air-conditioning, online lock system


Gastronomy

Imperial Restaurant & Terrace has 150 seats and offers gourmet food with a wide selection of international, Hungarian and vegetarian dishes. In good weather enjoy the breathtaking panorama from the restaurant's terrace.

Masters' Steak House & Club Lounge has 60 seats and is equipped with a Show Kitchen offering steaks and Mediterranean dishes. It expects not only the members of our golf club, but everyone with a taste for lavish choice. Plush leather couches, private cigar cabinets and lavish lounges reflect the atmosphere of genuine British clubs. The seating capacity of our club can be further extended by another 100 seats under the cool shade of terrace.

The Grand Slam Bar & Casino is available 24 hours a day for those who wish to try their luck. You can choose from a wide range of exciting exotic cocktails, ice creams, crumbs, cakes and fresh-made coffee or tea specialities.


Excursions in the region

Roaming about Baroque towns: Gödöllő, Vác

Boat-trips on the river Danube (small or larger groups alike): lights of Budapest, Visegrád and the Danube Bend

Water sport facilities: canoeing, fishing

Alpinism, walking tour, bicycle tour on a cycle path along the Danube

Hunting, archery, carriageing, joyride

Excursion on hot-air balloon, climbing, private plane-rent

Aquarena in Mogyoród

Outdoor programs in hotel domain or on outdoor field: paintball, special hide-and-seek, team-building plays, extreme outdoor plays, gokart
Other Wellness Hotels: Wellness szállodák hotelek

We can accept only reservations guaranteed by credit card!
Prices per room/night, including the buffet breakfast, the use of the services of Kerubina Spa & Wellness Centre (fun pool with thermal water, sauna, infra sauna, steam bath, fitness room), bathrobe use, parking and taxes.
Extra bed: 55 Euro/night
Extra breakfast (rich buffet): 20 Euro/person
Main meal (3-course): from 22 Euro/person
Csomaghordás: 3 Euro/person
Pets (are not welcome in the restaurant and the wellness centre): 25 Euro/night
Limousine- service (7 persons): first hour 100 Euro, then 60 Euro/hour
Children policy:
Up to 6 years in the parents' room: free
Between 6 - 12 years: free accommodation, breakfast: 20 Euro.
Check-in: 2 p.m.
Check-out: 11 a.m.