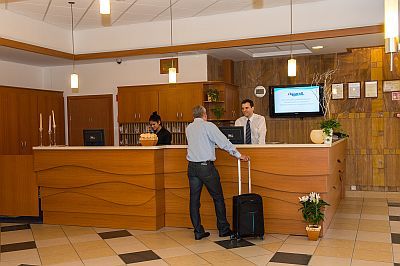 Hotel Aquarell **** Cegled - Wellness Hotel Aquarell Cegled
Hotel Aquarell **** is located only 65 km far from Budapest, in Cegled known as the gate of the Great Hungarian Plain, near the city's Thermal Bath and Aquapark.
The first 4-star wellness hotel of the city opened its gates in 2007, where comfortably furnished rooms, own wellness- and medical section, beauty parlour, excellent restaurant, several air conditioned meeting rooms and our dedicated staff work for your satisfaction and comfort in order to make you a regular guest of our hotel.
We have joined forces with the neighbouring spa and water park so that you can find everything in one place. Wellness weekend In Cegled Aquarell Wellness hotel.
Room information:
The 5-storey building can accommodate 178 guests on 3 floors in 92 air conditioned rooms.
Each room is equipped with minibar, safe, direct phone line, colour television and hair dryer. Fifty of the ninety-two rooms include double beds, the rest have twin beds which can be moved if requested. Our aim is to meet all kinds of requirements so we have several different types of accommodation.
To accommodate several generations comfortably, we offer family rooms which are the combinations of two double rooms. They can hold two adults and two children.
12 rooms on the first floor of the hotel have mineral water bath taps, so whenever you feel like taking a mineral bath right in your room, you can enjoy all the blessings of the thermal water of Cegléd.
For our handicapped guests we offer 2 special rooms.
Wellness Hotel Aquarell Room capacity:
- 4 superior apartments (with a bathroom and a living room and an extra bed if requested) with jacuzzi
- 2 superior apartments (with a bathroom and a living room and an extra bed if requested) with sauna
- 4 apartments with two rooms (bedroom and living room)
- 42 twin rooms:
8 standard rooms with bath tube
28 standard rooms with shower
6 mansard rooms with shower
- 40 double rooms:
11 standard rooms with bath tube
21 standard rooms with shower
8 mansard rooms with shower
Gastronomy:
On the buffet table of the Aquarell Restaurant up to 180 people can be served dishes made according to the scientifically supported principles of healthy eating as well as the traditional dishes of the region.
On our wine list you can find a wide variety of the light wines of the Alföld and the region and all kinds of beverages that will best complement the dishes.
In the ground floor café as many as forty guests can enjoy the different coffee specialities and teas besides the cold buffet and confectionery treats in winter.
In the sunny months of the year thirty more guests can be served on the terrace overlooking the spa.
You don't have to leave the water park pool, which is open all day, if you get thirsty or feel like a quick snack. You simply go to the pool bar and the staff is there to serve you with a wide variety of drinks and light snacks.
Hotel Aquarell Cegléd Conference facilities:
The meeting rooms of the Hotel Aquarell**** are ideal for product promotion shows, retraining courses, all kinds of programmes. After work you can relax enjoying the facilities of our hotel and every one of you will return home bursting with energy and ready to start new projects.
The meeting rooms of the Hotel Aquarell **** are equipped with state-of-the-art technical background to meet all kinds of requirements. A technician will be present to operate the equipment and to ensure smooth running so that you will be able to concentrate entirely on the success of the meeting.
Wellness and spa:
The wellness center of the hotel awaits its guests on 600 m2 floor area providing 3 indoor pools, a sun bathing terrace and an own medical section.
In the pool-hall:
- experience pool (178 m2, temperature: 30-32ºC; depth: 1,0-1,2 m)
- thermal sitting pool (34 m2, temperature: 34-36ºC; depth: 0,9 m)
- jacuzzi (29 m2, temperature: 34-36ºC; depth: 0,9 m)
- Finnish and biosauna
- steam room
- cold water plunging pool (temperature: 12-16ºC; depth: 1,1 m).
In the medical section:
- fitness room with Technogym machines: run, bike, step, multifunctional cardio
- tangentor - underwater jet massage treatment
- carbon dioxide bath
- hydromassage bath-tub Caracalla and Luxury
- infra capsule
- Hydrosun infrared emitter with water filter
- infrakabin
- Vichy-shower and massage bed
- Kneipp-pouring
- Kneipp-tread basin
- hydrotherapy and galvanic stimulation of the limbs
- electrotherapy
For gameloving adults there is another room where you can find a billiard table and a football table but if you'd prefer something quieter, there are cards and chess sets on the shelves.
In the daytime expert staff looks after the young children in the playroom if the parents want to have a few quiet hours to enjoy the pleasures of our wellness section. However, the parents themselves can also play with their children here just to make sure that they have a great time in a cosy and safe place full of toys, books and colour pencils.
Every day we organize indoor or outdoor programmes for children. The members of our staff are experienced specially trained teachers, with whom your children can spend the time safely while exploring the fascinating world of nature and domestic animals.
Programs with transfer:
- brandy-, honey- and whiskey-tasting in the hotel
- sightseeing tour in Cegled
- wine tasting at the Winery "Kökény és fia Családi Borászat" (4 km)
- bike tours
- team-building offers in New Tanyacsárda of Lajosmizse (the most typical Hungarian restaurants are called "csarda")
- riding and golf in Tápiószentmárton, in Kincsem Riding Park (17 km)
- sightseeing tour in Kecskemet
- excursion to Bugacpuszta
Prices include the half board, the use of wellness services (experience pool, thermal pool, jacuzzi, Finnish sauna, bio sauna, steam room, cold water plunging pool, fitness room), bathrobe use, VAT.
Tourist tax: HUF 500.-/person/night (above the age of 18 years).
Extra bed: HUF 17 000.-/night
Extra bed price if you spend min. 2 nights until 15 June 2014:
Weekdays (Sunday-Thursday): HUF 10 800.-/night.
Weekend (Friday-Saturday): HUF 11 800.-/night.
Main meal: HUF 4 500.-/person/occasion.
Pets: HUF 3 500.-/night.
Discounts for children:
Up to 5,99 years free of charge in the parents' standard room.
Between 6-11,99 years in the parent's room 50% discount from the price of the extra bed and the meals.
Family room: 2 connecting double rooms for max. 2 adults and 2 children under 12 years + 1 child under 4 years.
Credit cards accepted: American Express, Visa, Eurocard-Mastercard, JCB.
Parking: Free closed car park
Cancellation policy: You can cancel your reservation 30 days prior to scheduled arrival date. If you cancel 30-20 days prior to arrival date the penalty is 30% of total cost, 20-10 days prior to arrival date the penalty is 50% of total cost, and if you cancel 9 or less days prior to arrival date your credit card will be charged for the 70% of total cost.