Accommodation and Hotel room reservation in Keszthely
Accommodation and Hotel room reservation in Keszthely
Keszthely is located 187 kms far from Budapest, on the northern shore of Lake Balaton. Thanks to its unique sights and rich culture, the town got the name 'capital of Balaton'. The Festetics Castle, the Roman ruins and the unique flora and fauna of the Small-Balaton make Keszthely the tourist center of the area. Pleasure sightseeing- and wine-tours and cruises are available for the visitors. The hotels of Keszthely await their guests with discount half-board packages. Spend a pleasure discount wellness weekend at Lake Balaton, in one of our hotels in Keszthely!
Keszthely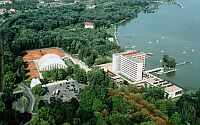 Keszthely
3-star Hotel Helikon is a resort hotel directly on the shore of Lake Balaton, in a wonderful area. Hotel Helikon offers the possibility for active recreation for all generation. 232 rooms, a restaurant and a fitness centre are waiting for the guests.
Hotel Helikon Keszthely 3* - Akcios balatoni hotel Keszthelyen Price list, Online Reservation
---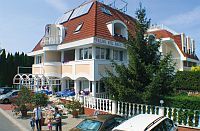 Keszthely
from EURO 58!
The family atmosphere Wellness Hotel KAKADU ***superior is located in Keszthely, only 350 m from Lake Balaton. Wellness Hotel KAKADU ***superior – open throughout the whole years offers to its guests 28 rooms, 4 apartments – all with WiFi Internet connection - and an own wellness club which assures the possibility of health preservation and the refreshment of body and soul. The hotel is an ideal starting point for numerous excursions, visitors might get enchanted by the historic atmosphere of Keszthely, the architectural and cultural heritage and at the same time by the wonderful natural surroundings. The lake of Heviz, the largest natural thermal lake of Europe, can be reached in 10 minutes by car from the hotel.
Hotel Kakadu Keszthely 3* - Akcios felpanzios Wellness Hotel Kakadu Price list, Online Reservation
Packages: 7 pieces
---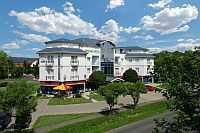 Keszthely
from EURO 82!
The three-star Kristaly Hotel Keszthely, situated at the shore of Lake Balaton in the centre of Keszthely, awaits its guests with 40 elegant rooms, pampering wellness services and a restaurant. The conference room of Hotel Kristaly with its capacity of 50 people is the ideal venue of all kinds of smaller events.
Kristaly Hotel Keszthely 3* - Akcios Wellness Hotel a Balatonnal Price list, Online Reservation
Packages: 8 pieces
---
© 2002 - 2018
www.hoteltelnet.hu
Hungary Telephone / fax: +36 (1) 227-9614 email:
info@hoteltelnet.hu
Hoteltel Kft. |
Travel Hotels partners
|
Aff
|
Privacy policy