Egerszalok accommodation and Hotel Reservations here
Egerszalok accommodation and Hotel Reservations here
Egerszalok is located between the Matra and Bukk Mountains, in the valley of Lasko-steam, 133 kms far from Budapest. The main attraction of the village is the thermal water, which creates salt-hills. Thanks to its natural waters, formations, stones and delicious wines, Egerszalok is one of the stops of the route Stone-Tour. Besides a baroque church, a Virgin Mary-statue and the magical Virgin Mary-picture can be found in the village. The hotels in Egerszalok await the guests who want to relax and to take advantage of the world-class wellness and health facilities. Spend a discount wellness weekend in Egerszalok with half-board package in one of our hotels!
Egerszalok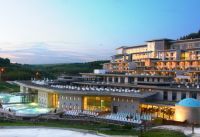 Egerszalok
from EURO 136!
Saliris Resort **** Spa and Conference Hotel is situated in a 17.5 hectare superb natural environment ringed by pine forests in Egerszalok. The four-star spa hotel is connected by a glass corridor to the exclusive thermal spa, built near the only salt hill of Europe. The Thermal Spa of Egerszalok with its 17 outdoor and indoor pools (sitting pools filled with medicinal water, cave pool, jacuzzi, adventure pools, children pools, Kneipp tread basin, echo pools) on a water surface area of 1900 m² ensures the total relaxation and rejuvenation of guests.
Saliris Resort Spa Hotel Egerszalok 4* - Akcios Saliris wellness Hotel Price list, Online Reservation
Packages: 3 pieces
---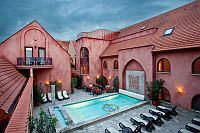 Egerszalok
The 4-star superior Fabulous Shiraz Wellness and Training Hotel is located in Egerszalok, famous for its salt hill and Thermal Spa. Fabulous Shiraz Wellness and Training Hotel combines luxury with oriental convenience and Mediterranean elements and offers 42 rooms in different categories, two restaurants, a North African Bathhouse, a Moorish Bath and other wellness services and special massages. The hotel's five conference and meeting rooms are ideal venues for business and family events.
Meses Shiraz Hotel Egerszalok 4* - Akcios Wellness Hotel Egerszalokon Price list, Online Reservation
---
© 2002 - 2018
www.hoteltelnet.hu
Hungary Telephone / fax: +36 (1) 227-9614 email:
info@hoteltelnet.hu
Hoteltel Kft. |
Travel Hotels partners
|
Aff
|
Privacy policy