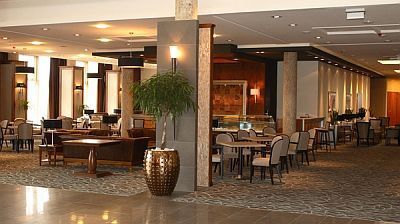 Hotel Saliris Egerszalok **** Spa and Conference Hotel Saliris Egerszalok
Egerszalok lies 6 km from the city of Eger, 133 km from Budapest, in the Lasko stream valley between the Matra and Bukk ranges. The village can be easily reached from the M3 highway.
Saliris Resort **** Spa and Conference Hotel is situated in a 17.5 hectare superb natural environment ringed by pine forests in Egerszalok.
ROOMS:
Hotel Saliris Resort **** Spa offers 203 rooms, 101 standard rooms, 52 superior, 40 superior plus, 9 suites, 1 presidential suite and 3 rooms for the disabled.
All rooms have 32" IPTV, nearly 20 channels and pay TV, Internet, telephone, minibar, room safe, tea/coffee-maker, air heating and cooling. Every room has either a terrace or lawn area with comfortable seating.
MEDICINAL WATER OF EGERSZALOK:
The thermal water source was discovered in 1961 during drilling for oil. Water tapped from 426 metres down reaches the surface at a temperature of 65-68º C, depositing minerals that form the travertine salt hill.
The Ministry of Health classified the calcium-magnesium hydrocarbonate thermal water as a medicinal water in 1992.
For years the salt hill became the symbol and trade-mark of Egerszalok. There are only two similar natural formations in the world, one in Pamukkale in Turkey and in the Yosemite Park in USA.
SALIRIS RESORT **** consists of three sections, which are the following:
Spa and Conference Hotel
Thermal Spa
Thermal Plage
THERMAL SPA NEAR THE ONLY SALT HILL OF EUROPE:
The Thermal Spa and adventure pool have been in operation since July 2007 in Egerszalok. There are 17 outdoor and indoor pools (sitting pools filled with medicinal water, cave pool, jacuzzi, adventure pools, children pools, Kneipp tread basin, echo pools ) on a water surface area of 1900 m².
There is a jacuzzi and Finnish sauna world to ensure the total relaxation and rejuvenation of guests.
The spa, developed on the salt hill medicinal water resource, has a medical section, which opens after the inauguration of the hotel. A glass corridor connects the hotel and spa.
The exclusive sauna world of the wellness centre keeps you body and soul fresh. Indoor saunas: Finnish sauna, steam bath, aroma chamber. Outdoor saunas: Finnish and Russian sauna.
In the Beauty farm facial and body treatments are available using professional Germanie de Capuccini products.
Manicure, pedicure with Revlon cosmetics and solarium are also available.
Treatments: red grapes bath, Cleopatra bath, sea water bath with micronised seaweeds, Thalassso clay pack, delux chocolate pack, gold and black pearl pack, red grape therapy, relaxing aromatic massage, antistress massage, etc.
In the fitness section the newest and most effectual cardio and power machines of Life Fitness and training programs help our guests to preserve their health.
GASTRONOMY:
The principal restaurant with seating for 300 guests is on the 6th floor of Saliris Resort Spa & Conference Hotel and offers a beautiful view of Kékes Mountain.
The culinary experience is enhanced by the 100 m² room separated by a glass partition as well as two halls (250 m² and 230 m²) with own buffet tables.
The terraces offer an ideal opportunity for guests to enjoy aperitifs, a glass of wine or a coffee speciality.
Located on the top floor in the 400 m² hotel lobby the drink bar has a wide selection of drinks and provides a pleasant place for meetings with friends and business partners.
Hotel Saliris Egerszalok CONFERENCES:
Total capacity of the conference halls: 11 rooms with a combined floor area of 790 m².
Top floor: 1 hall 210 m²; 1 hall 160 m² (partitionable into 3 sections); 2 rooms 50 m²; 1 room 20 m²; all with natural lighting over a combined area of 490 m².
Six rooms (23-75 m²) on the other hotel floors with artificial lighting over a combined area of 300 m².
Rooms cannot be booked Saturday's departure and arrival days. Friday and Saturday nights can be booked only together.

The room rates include: staying with half board, unlimited use of the Thermal Spa with 1900 m2 water surface consisting of 17 outdoor and indoor adventure and medicinal pools, whirlpool tub, slide and children's pools and fitness room equipped with cardio strengthening machines, bathrobe use, WIFI Internet in the lobby, VAT.
Local tax extra to pay: HUF 400.-/person/night from the age of 18 years.
Use of Sauna World: HUF 2000.-/person/day
Garage: HUF 2200.-/car/day
Car park: HUF 2500.-/car/day
Extra bed: HUF 25 000.-/person/night
Pets are NOT welcome.
Children's discount:
Children together with parents in the same room (standard, superior, superior plus rooms):
- between 0-4 years without charging,
- between 4-14 years 50%.

Max. 2 adults and 2children (0-14 years) can be accommodated in a family room.
Check-in: from 15:00
Check-out: until 11:00
Cancellation policy: 14 days before arrival no fee will be charged. In case of late cancellation or no show the cost of one night stay will be charged.