Veszprem discounted hotels and accommodation in Veszprem
Veszprem discounted hotels and accommodation in Veszprem
The city of Veszprem awaits the guests with many tourist attractions just 15 kms away from Lake Balaton. In the centre of Veszprem stands the Castle with its narrow streets, pedestrian areas and historic monuments. There are also museums, galleries and religion exhibitions, which are worth to visit them. In Veszprém Arena national and international sports events, big fairs and exhibitions take place continuously. The famous Veszprem ZOO has the longest standing traditions in Hungary. In addition there is also a famous eventsqueer in the city, located at the Veszprémvölgy. You can find a lot of hotels in Veszprem, where you can find your accommodation. Many hotels offer wellness packages. Come to Hungary and visit Veszprem!
Veszprem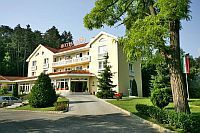 Veszprem
The 4-star Hotel Villa Medici is located in Veszprem, in the picturesque valley of the city, at the foot of the Valley Bridge (Viadukt). The cozy rooms and apartments, the two restaurants, the small Japanese gardens, the show kitchen and the panoramic terrace behind the hotel building offer a pleasant stay to our guests. The pearl of the hotel is the swimming pool with jacuzzi, sauna and steam room. 
Hotel Villa Medici Veszprem 4* - Akcios Wellness Hotel Veszpremben Price list, Online Reservation
---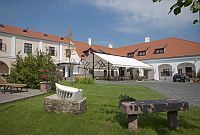 Veszprem
Special offer! Free night: 7 = 6 !
from EURO 85!
Hotel Historia & Historante **** is located in the downtown of Veszprem, only a few minutes' walk away from the famous Veszprem Zoo and the Castle. The four-star Hotel Historia is with comfortable rooms, an elegant restaurant and a wellness department at its guests' disposal. Due to its conference room with a capacity of 60 persons and its cellar room which holds up to 80 person Hotel Historia is the perfect venue of different events.
Hotel Historia Veszprem - Akcios Historia Hotel Price list, Online Reservation
Packages: 3 pieces
---
© 2002 - 2018
www.hoteltelnet.hu
Hungary Telephone / fax: +36 (1) 227-9614 email:
info@hoteltelnet.hu
Hoteltel Kft. |
Travel Hotels partners
|
Aff
|
Privacy policy