Discounted hotels in Szekesfehervar
Discounted hotels in Szekesfehervar
Szekesfehervar is the residence of Fejer county, which is located halfways between Budapest and lake Balaton in the Transdanubian region. The ancient Alba Regia is one of the largest Hungarian cities with a historcal background: once the king's residence, nowadays international industrial centre, education city and main travel destination for hundreds of thousands. The lodgings and hotels in Szekesfehervar await guests in every season all around the year. Find out more about our special offers on HotelTelNet's website! Book your room in one of our lodgings and hotels in Szekesfehervar, right here in our free of charge booking system and get a discount up to 25 percent.
Szekesfehervar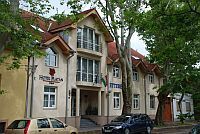 Szekesfehervar
Special offer! Free night: 7 = 6 !
from EURO 45!
The 3-star Hotel Platan is located in 5 minutes walking distance from the historical downtown of Szekesfehervar, in quiet, green surroundings. Hotel Platan is a perfect accommodation for both tourists and businessmen. All the 28 guest rooms are equipped with air-conditioning. Hotel Platan offers an air-conditioned restaurant, sauna and closed parking lot under video surveillance for its guests.
Hotel Platan Szekesfehervar 3* - Akcios Platan Hotel Szekesfehervaron Price list, Online Reservation
Packages: 6 pieces
---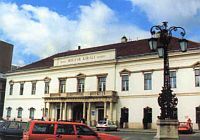 Szekesfehervar
from EURO 81!
Guests are welcome again to Hotel Magyar Kiraly **** the newest and most traditional hotel of Szekesfehervar offering wide range of services. In the 4-star Hotel Magyar Kiraly air conditioned rooms and suites, different conference rooms for up to 400 persons, a drink bar, a wine cellar, wellness services, a deep garage and an excellent restaurant are at guests' disposal.
Hotel Magyar Kiraly 4* - Akcios wellness hotel Szekesfehervaron Price list, Online Reservation
---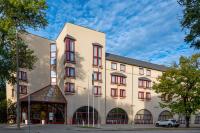 Szekesfehervar
from EURO 79!
The 4-star Hotel Novotel Szekesfehervar is situated on the edge of the historical old city, close to the cultural and historical sights of Szekesfehervar. Novotel Szekesfehervar offers 96 air-conditioned rooms, all equipped according to the Novotel standards. The Côté Jardin Restaurant of the hotel offers Hungarian and international meals. Indoor parking lots in the garage and a well-equipped fitness room are also available for the guests. City hotel Novotel Székesfehérvár
Hotel Novotel Szekesfehervar 4* - AKCIOS Novotel Szekesfehervar Price list, Online Reservation
---
© 2002 - 2018
www.hoteltelnet.hu
Hungary Telephone / fax: +36 (1) 227-9614 email:
info@hoteltelnet.hu
Hoteltel Kft. |
Travel Hotels partners
|
Aff
|
Privacy policy