Special discounted wellness and thermal hotels in Mezokovesd
Special discounted wellness and thermal hotels in Mezokovesd
Mezokovesd, located 132 kms far from Budapest, at the meeting point of Bukkalja and the Great Plain, can be easily approached by car and public transportation. The town awaits its guests with rich cultural life, matyo art treasures and thermal water. The hotels of Mezokovesd offer discount half-board packages to the guests who want to relax. Spend a discount wellness weekend in Mezokovesd!
Mezokovesd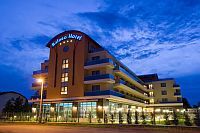 Mezokovesd
Special offer! Free night: 7 = 6 !
from EURO 107!
The newly built 4-star Balneo Hotel Zsori Thermal & Wellness is located in Mezokovesd near Zsory Spa and Open Air Swimming Pool where curative pools, experience pools, wave pool, round pool with waterfalls and natural massages, children's pool and indoor swimming pool are at guests' disposal. In the hotel air conditioned rooms, Balneo therapy-centre and wellness-fitness services ensure that our guests are satisfied, physically and mentally refreshed, rested and cured when they leave. 
Balneo Hotel Zsori Mezokovesd 4* - Akcios Thermal Hotel Mezokovesden Price list, Online Reservation
Packages: 10 pieces
---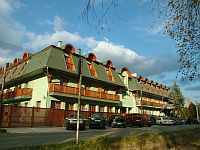 Mezokovesd
from EURO 39!
The 3-star Hotel Pension Hajnal - open all year round - is situated in Northern Hungary, in Mezokovesd, in the capital of 'Matyo' Land. The hotel is located only 150m from the famous Zsory Health Spa. The 28 cosy rooms, the sport- and fitness facilities, the salt cave and massages, all serve to help guests relax and to provide active rest.
Hotel Hajnal Mezokovesd 3* - Akcios Hajnal gyogyszalloda Mezokovesden Price list, Online Reservation
Packages: 13 pieces
---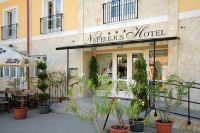 Mezokovesd
from EURO 60!
Hotel Nefelejcs *** is located in Mezokovesd, about 150 m far from Zsory Spa, the famous thermal bath of the city. In the wellness area of Hotel Nefelejcs guests can enjoy the bubble bath, the Finnish and infra saunas. For the complete renewal guests can take traditional Indian medical treatments and medical massages. The modernly equipped conference room is an excellent place of event for conferences, trainings and other event types as well.
Nefelejcs Hotel Mezokovesd 3* - Akcios wellness Hotel Mezokovesden Price list, Online Reservation
Packages: 5 pieces
---
© 2002 - 2018
www.hoteltelnet.hu
Hungary Telephone / fax: +36 (1) 227-9614 email:
info@hoteltelnet.hu
Hoteltel Kft. |
Travel Hotels partners
|
Aff
|
Privacy policy