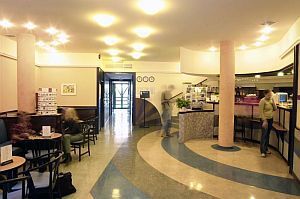 Hotel Corvin *** Budapest
Dear Guests! We have to inform you, that we are not distributing the Hotel at this time. Thank you for your understanding.
Location:
The 3-star Hotel Corvin is located just a few minutes' walk from the heart of downtown of Budapest and the River Danube and has quick access from Ferihegy airport and from all the important public junctions of the city either by public transport or by car.
Hotel Corvin rooms:
The middle class hotel, which was built 9 years ago in one of the fast developing areas of Budapest, awaits its visitors with 42 comfortable air-conditioned rooms. All the rooms are furnished in Scandinavian style, completed with bathroom, hairdryer, color TV with satellite programs, phone, safe and minibar.
There are also five charming apartments, which consist of a living room, a bedroom, a kitchen and a bathroom.
The restaurant offers Hungarian and European specialities. The non-stop drink bar in the lobby is a perfect venue for having a very good time. Wireless internet access is available in the lobby.
The hotel has own safe parking area.
Hotel Corvin conference facilities:
Hotel Corvin is ideal for holding smaller meetings. The 3 naturally lighted, air-conditioned conference rooms (2 of them are for 20 people, whereas the third is for 40 people) are suitable for trainings, seminars and meetings. Available technical equipments: overhead projector, laptop, wireless Internet access, flipchart, screen, TV, video recorder, DVD player.
Important sights in the area:
Hungarian National Theater
Palace of Art (National Concert Hall, Ludwig Museum)
Museum of Applied Art
Holocaust Memorial Center
Hungarian National Museum
Prices per room per night, including the breakfast and the VAT.
Local tax: 4% of room rate/person/night.
Parking: HUF 3000.-/night.