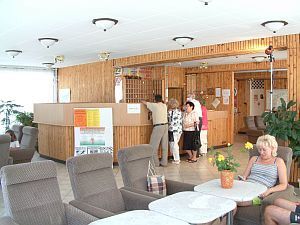 Hotel Boglar*** Balatonboglar - Lake Balaton

We would like to inform you that the hotel is closed!
About the city
Balatonboglar is situated on the southern shore of lake Balaton, 140 km from Budapest. The town of 6200 inhabitants is built together with Balatonlelle and Fonyod by now. Balatonboglar is the city of grape and wine, the centre of South-Balaton Wine Region. The catholic church in the centre of the city was built in 1932. The Castle Hill above the church is a nature conservation area. The symbol of the city is the look-out tower which is erected on the top of the hill. The look-out tower offers a wondeful viewto the lake. The near castle of Szőlőskislak serves as a museum of viniculture. Various programmes are organized at Platán Beach during the whole summer. The Contest if Swimming Across Balaton between Balatonboglár and Révfülöp is a very popular amateur swimming contest with the participation of more thousands of people (on the last Saturday of July). The Boglár Vintage Festival is held on 20 August.
The 3-star Hotel Boglar consists of three separated buildings surrounded by a green park.
The resort hotel offers 64 double rooms and 40 apartments (2+2 beds).
Every room and apartment has private bathroom with shower and balcony. The rooms are equipped with TV and telephone. There are 22 non smoking rooms and 2 rooms for handicapped people too.
There is a restaurant and a drink bar in the hotel. The restaurant can seat 160 persons, half board and full board are available.
The hotel has a large, air-conditioned conference room for 200 persons and 3 section rooms for 15-15 persons.
Programmes (optional):
Puszta programmes in the surroundings
Wine tasting in the surroundins
Lelle Express: sightseeing in Balatonboglár and Balatonlelle in train
Kentaur Horse Farm in Balatonboglar: horse-show, riding, wine tasting
Kehidakustány: thermal- and fun bath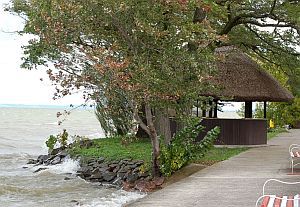 Prices per room/night, including the use of the beach, the parking and the VAT.

Local tax: HUF 340.-/person/night
Half board (buffet breakfast and dinner): 2.500 HUF /person/day
Full board ( buffet breakfast, lunch and dinner): 3.200 HUF / person/day
Children's discount:
Up to 4 years gratis, between 4-11,99 years 50% discount.
Payment: 25% of total cost by bank transfer in advance, 75% on the spot in cash
Bank account: 10700378-42165707-52000001