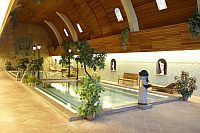 Baths
Thermal bath and spa completely renovated in Roman style: fed from the hotel's own well-spring (33-36ºC), thermal pools, whirlpool, Kneipp-treading basin, resting hall.
Open-air visual bath (35ºC): partly covered water surface, whirlpool bath, whirlpool beds and standing, side and neck massages, splash pool and water kiddy slide, Mediterranean sun-bathing park, playground for kids.
Swimming pool (28ºC): covered pool of size 25 x 12,5 m, directly connected to the visual bath section.
Sauna-Island: Finnish sauna, aroma chamber, steam bath, tepidarium, salt chamber, relaxing room
Traditional Heviz therapies
NaturMed Hotel Carbona**** offers traditional therapeutic services for the treatment of all kinds of chronic diseases of the motor organs and gynaecological diseases. For example: massages, mud pack, sulphur pack, fluor pack, underwater massage/tangentor, hydroxeur-tub bath, weight bath, carbonic acid bath, hydrogalvan, curative gymnastics (individual/in groups), therapeutical exercises, electrotherapy, lab-examinations and dental treatments.
The cures include the initial and control examination.
Wellness-Vital treatments:
Tests about the biological condition of the body: Biofit test
Massages
Baths enriched with herbs and aromatic oils
Oriental exercises: Tai Chi, yoga, autogenous training, Thai, Shiatsu and Yumeiho massage
Beauty Farm: hair dressing, manicure-pedicure, cosmetics, face-, body- and cellulite- treatments, solarium
Fitnes room, tennis courts with trainers, rent-a-bike
Thalasso therapy: from 2004 we offer relaxing, mineral-supplying, energizing and slimming treatments with sea-water and micronised seaweeds as well as complete cures using the products of Thal'ion.
Detoxifying and fast cures
We organize therapeutic fast Buchinger-Lützner style with potato-, asparagus-, strawberry-, melon- and grapes-diet.
Naturmedicina-Vital treatments:
General medical examination (Biofit test)
Fitness, wellness, vital packages
Buchinger-Lützner style purifying cure
Acupuncture
Colon-hydrotherapy
Autogenous training
Massages (Swedish, whole body, aroma, foot, Thai, Shiatsu and Yumeiho)
Vodder type lymph massage
Hydro-jet
Cupping
Herbal bath and pack
Relaxing bath with aromatic oils
Exercises (tai chi, yoga)ű
Morning gymnastics, aqua-jogging
Light-therapy (Solux, Evolite)
Kneipp therapy (treadmill, alternating shower)