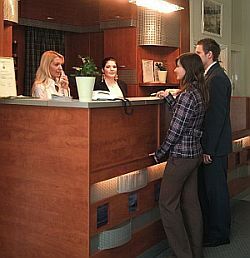 Centrum Hotel Debrecen *** Affordable Hotel Centrum in Debrecen

Dear Guests! We would like to inform you that we don't sell available rooms in Hotel Centrum! Instead we offer Hotel Aranybika and Hotel Óbester Debrecen
Location:
As Hungary's second largest city, Debrecen is the cultural, scientific, economic and commercial centre of Eastern Hungary. The city is situated 37 km from the famous Hortobágy Puszta, a World Heritage site.
The 3-star Hotel Centrum lies in the historic city centre of Debrecen, near Calvinist College and Calvinist Great Church. As every important office and institution is within walking distance, it is the ideal accommodation for business travelers.
Hotel Centrum Debrecen rooms:
The hotel offers 66 rooms: 62 superior rooms, 3 apartments and 1 suite.
Every room is spacious, equipped with direct dial telephone, minibar, colour TV with satellite programmes and kitchenette. Extra beds are available on request. The bathrooms have bath tube or shower. The balconies overlook the Great Calvinist Church and the Calvinist College or the pedestrian precinct. Non-smoking rooms are available.
Centrum Hotel Debrecen gastronomy:
The hotel's Civis Restaurant has glass roof giving a conservatory-like atmosphere. The masterpieces of Hungarian and international gastronomy are served. In summer, meals are roasted on the terrace over the open fire. Vegetarian dishes are also on offer. Gösser Drink Bar, terrace (live concerts in the summer) and Jazz Bar await the guests.
Debrecen Hotel Centrum - Conferences:
Hotel Centrum offers excellent meeting facilities, the Conference Centre can host up to 400 people: Cívis Hall for 50 persons, Jubileum Hall for 60 persons, Centenarium Hall and Millennium Hall for 140 persons, the three halls together have a capacity of 400 persons. Wide range of technical equipment is available.
Debrecen - Sights and programmes:
Sight-seeing walk in Debrecen - visit the Great Calvinist Church, Calvinist College, Déri Museum, see the Munkácsy paintings, visit the Csokonai Theatre.
Drop in to the Tanners' House and see masterpieces of Hungarian folk art.
Visit the Hortobágy 'puszta' with a 2-hour coach-ride.
Learn more about how the famous black ceramics of Nádudvar are made.
Trip to Tokaj, including a river cruise and wine tasting.
At the Cívis Bika Tanya: Goulash-party and dance learning, ox-roasting (min.50 people), open-air pig-roast (min.15 people), kettle prepared and Hungarian peasant dishes, slambuc, fish dishes weekend grill party, bacon roasting, 'lángos' and salted scone cooking in the oven.
További hoteltek Debrecenben: Debreceni hotelek
Prices per room per night.
Prices include: accommodation with buffet breakfast (incl. CIVIS WELLNESS breakfast corner), free use of sauna of the hotel, free use of Civis Grand Hotel Aranybika Wellness Center (jacuzzi, infra-, steam-, and aromatic cabins, sauna and indoor swimming pool), VAT and tourist tax.
Extra bed: EUR 22.-/night
Half board: EUR 15.-/day
Pets: EUR 18.-/night
CIVIS CHILDREN POLICY: Children sharing the room with their parents between age of 0-6 are accommodated free of charge, children between 6-12 age are granted 50% discount on accommodation and breakfast. Special menu card for kids are available in the restaurant.