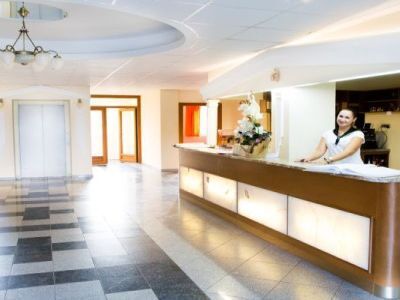 Aphrodite Wellness Hotel Zalakaros **** - Discount Aphrodite Wellness Hotel with half-board packages in Zalakaros
Wellness Hotel Aphrodite is situated in Zalakaros, close to Kis-Balaton. Located in the city center, the 4-star hotel is just 90 meters from the thermal and wellness spa of the city. An excellent wellness center and spa facilities await the wellness lovers in the hotel. The hotel's restaurant offers traditional Zala style cuisine. The hotel's modern event and conference halls are ideal venues of corporate events.

Hotel Aphrodite has 34 non-smoking rooms. Some of the rooms feature a spacious balcony. The rooms are all equipped with geothermal walls, ceiling and floor heating-cooling (air conditioning), a broadband Internet connection (Wi-Fi), LCD (flat screen) TV, room safe, telephone, minibar and shower or bathtub with fully equipped bathroom. Most rooms can be equipped an extra bed. The total area of ​​the hotel is wheelchair accessible.

Hotel Aphrodite Superior Double Room:
Rooms with balcony, primarily recommended for young couples, perfect for a little romance. The rooms do not have an extra bed.

Hotel Aphrodite Superior Family Room:
The spacious family rooms are suitable for max. 2 adults and 2 children, rooms can be equipped with extra beds.

Hotel Aphrodite Suite with circle bed and jacuzzi:
The suite is distinguished by its round bed and a jacuzzi. The suite can fit max. 2 adults and 2 children, special airspace placement for the children can be solved. Hotel Aphrodite Presidential suite: The approx. 50 sq. presidential suite is equipped with comfortable furniture.

Hotel Aphrodite Restaurant:
The restaurant offers fine Zala specialties and awaits its guest with the finest dishes. Most of the ingredients come from the hotel's own farm. The farm that is found 3 km-s away from the hotel provides the fruits and vegetables for the restaurant. The hotel's full meat and dairy product need is provided from the farms livestock. The farm can be reached by foot or bicycle. The hotel guests can also visit the farm via old fashioned wagon, which leaves the hotel's entrance every day from 10.00 and 13:30. The restaurant can hold up to 100 people and is ideal for difference events like weddings, birthday parties, parties, trainings and conferences.

Hotel Aphrodite Wellness division:
The wellness and spa division features an outdoor pool, thermal pool, adventure pool, an ice cold pool, a 12-person jacuzzi, Finnish and infrared sauna, steam bath and four-poster/canopy beds awaitthe guests to relax. The thermal pool is filled with sodium chloride, hydro carbonated water that is received from the medical spa of zalakaros and the water's temperature can be as high as 30 °C. The hotel guest can choose from 43 different massage treatments. The hotel's fitness division offers perfect sport opportunities with more than 20 types of fitness machines.

Hotel Aphrodite Conference rooms:
Besides the restaurant than can hold up to 100 people, the modern and air-conditioned conference and event rooms of the hotel offer an ideal spot for family reunions, corporate events, meetings and conferences.
Las tarifas de las habitaciones incluyen: alojamiento, media pensión, uso de las divisiones de bienestar y fitness, uso de la sala de ping-pong, conexión a Internet Wi-Fi e IVA.
Impuesto de turismo: 500 HUF / persona / noche (desde los 18 años a pagar)
Almuerzo en el restaurante: 2500 HUF / persona / día
Aparcamiento en el garaje del hotel: 1500 HUF / coche / noche
Estacionamiento en el estacionamiento de la superficie vigilada por la cámara: 750 HUF / automóvil / noche
Mascotas: 5900 HUF / mascota / noche
Check in: 14:00 - 23:00.
Salida: 10: 00
Pago: efectivo, transferencia bancaria, tarjetas de crédito Tarjetas de crédito aceptadas: MasterCard, VISA del valor de la reserva debe ser transferido por adelantado
Cancellation is free of charge 8 days prior to arrival. In case of cancellation between the 4-7th days prior to check-in date penalty is one night room rate. In case of cancellation less than 4 days prior to arrival or in case of no show 100% of the booking value will be charged.