1138 Budapest, Margitsziget Phone: 00-36-1-2279614
Thermal water wellness treatments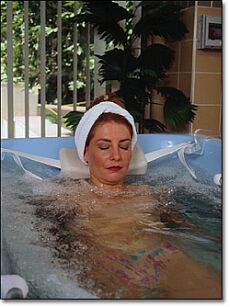 Therapies based on the utilization of the three valuable thermal springs of Margaret Island.
Indications:
Rheumatic disease of locomotor organs, spinal disease conditions, gout, polyarthritis, spondylosis, spondyarthritis ankylosis, discopathia, nervous disorders, muscle disease conditions, tenosynovitis, post-injury state, postoperative rehabilitation of joints and spine, geriatric regeneration, circulatory problems of the heart and blood vessels, locomotor problems resulting from bone disease and exhaustion.
Contraindications:
Tuberculosis, malignant tumor, trombosis, thrombophlebitis, leukaemia, cardial decompensation, several cases of anaemia, haemophilia, hyperthyreosis and pregnancy.
Spa therapy guests are requested to bring their medical records along, not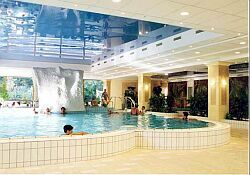 older than 3 months (blood, laboratory and ECG).
Diagnostic section: laboratory, ECG
Balneo-and hydrotherapy: thermal bath, underwater jet massage, carbon-dioxid bath, weight bath and inhalation.
Mud-pack: the mud is brought from Héviz in a dry form and cooled with natural thermal water
Physicotherapy: electrotherapy (low and high frequence therapies), individual and group medical gymnastics, massages (traditional, Swedish, Thai), underwater gymnastics.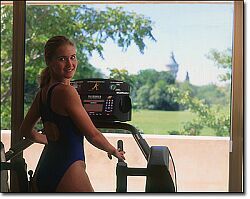 Cardio center
Vital Center - Dental clinic: maintenance, surgical and prosthetic dental treatments.
Facial cosmetic surgery
Laser eye clinic - Focus Medical
No treatments on Sundays and national holidays (01.01., 15.03., 01.05., 20.08., 23.10., 01.11., 25/26.12., Easter and Whitsun)

Wellness

Danubius Health Spa Resort Margitsziget boasts one of Europe's top Health Spas, the therapies of which are based on the utilisation of water from three of the island's natural thermal springs. With views over the park, the water world has been re-designed with natural colours and light enhance its island setting.

Spa water world

- Thermal bath (8 x 8 m, 36-37°C)
- Indoor (1,7 x 8,5 m, 27 °C) and outdoor swimming pools (12,5 x 6,5 m, 26-28 °C)
- Adventure pool (8 x 4,6 m, 32-34°C)
- Gymnastics pool (4 x 6,5 m, 33-35°C)
- Traction bath (4 x 6,5 m, 34-36 °C)
- Sauna, infra-sauna, steam-cabin, aroma-cabin
- Solarium, sun terrace

Ladies' Hour
Ladies can use the thermal pools exclusively 3 times a week, for 1-1 hour: Monday / Wednesday / Friday 12.00-13.00

Wellness treatments and services
Using the relaxing effects of the thermal waters, our wellness treatments and services focus on relaxation, re-energizing, beauty and fitness.

Relaxation
- Wellness massages: Thai massage, revitalizing and relaxing aromatic massages, foot massage, hot towel back massage, relaxing head and face massage, traditional dry brush massage, Dolce vita massage, Shiatsu massage, hot stone therapy, royal four hands massage, wine cream massage, Danubius DeLight, De Luxe massage
- Wellness baths: revitalizing aroma bath, relaxing aroma bath, Cleopatra bath, Alkaline bath, bitter and sweet beer bath, red wine bath with anti-cellilute effect, Vanila Cream bath
- Other wellness treatments: solarium, wellness mud pack, infrasauna, Aphrodite pack, oxygen inhalation, body scrub with salt, fruit brandy and alkaline bath, salt cave
- Salt cave: constructed with rock salt from Dead Sea, the salt cave offers excellent natural therapy for relaxation, to boost the immune system and to clean the respiratory system, while light effects create a pleasant mood by the relaxing effect of its colours
- Medical wellness treatments: Aqua detox treatment, Arteriograph, body scrub with salt and fruit brandy and alkaline bath

Beauty:
- Emporium hair & beaut salon: first class beauty, cosmetic and relaxation treatments, with the technologies and products of the famous French cosmetic company: Clarins
- Beauty treatments: Clarins Facial treatments, Clarins body treatments, eyelash tinting, eyebrow tinting, eyebrow correction, full leg wax, leg wax till knee, Bikini Wax, armpit / underarm wax, facial wax
- Beauty other: manicure, manicure with varnish, French manicure, Japanese manicure, pedicure, pedicure with varnish, Paraffin hand or foot treatment

Fitness
- Danubius Premier Fitness: 400 m2 fitness area, personal fitness consultation, fitness re-assessment, aqua fitness, yoga, Nordic Walking