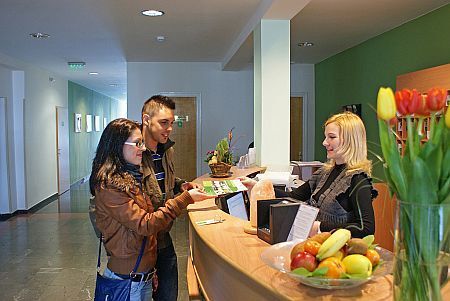 CE Quelle Hotel Heviz **** - Affordable Quelle Thermal Hotel in Heviz, Hungary
Thermal and Wellness Hotel CE Quelle can be found only 300 meters from the unique Thermal Lake of Heviz. The 4-star spa wellness hotel - completely renewed at the beginning of the year 2008 - with its services and medical and therapeutic department, stands out from the other hotels in Heviz. Come to Heviz and spend some unforgettable days in the home of peace and wellness, in Spa CE Hotel Quelle.
Spa Wellness CE Hotel Quelle rooms:
Spa Hotel Quelle awaits its guests in Heviz with 51 spacious rooms on three floors. All single and double rooms and apartments are equipped with bathroom, minibar, TV, telephone, and wireless Internet access. The balcony of the rooms offers a wonderful panorama to the countryside.
Ce Quelle Hotel Heviz, restaurant and Drink Bar:
Salvia Restaurant of CE Hotel Quelle Heviz awaits the guests with delicious home-made dishes and flavors of Hungarian and international cuisine.
The hotel offers rich buffet breakfast and a'la carte half or full board supplement.
Individual special catering is also possible (diabetic and gluten-free dishes may be requested).
Salvia Restaurant is open between 7:30 - 20:00 every day.
Lime Drink Bar offers refreshing cocktails on the hot summer days, but coffee specialties and wines are also available in the bar.
Wellness and Beauty Department in CE Hotel Quelle :
CE Quelle Hotel awaits its guests with extensive wellness services: aroma cabin, infrared sauna, herbal wellness sauna, tropical and Scottish shower, alternative massages and spa relax pool with medicinal water are available in the wellness section of the hotel.
Our wellness isle awaits those who seek refreshment between 12:00 - 18:00, the pool and the infrared saunas are available between 10:00 - 18:00. (Of course we adjust to the guests demands.)
Please note that medicinal water for children under 14 years is recommended only in case of medical prescription!
In Spa Wellness CE Hotel Quelle our trained masseurs pamper your body and soul with special alternative massages (aromatic massage, head massage, thai massage, yumeiho, shiatsu) and wellness baths.
Spend your holiday actively in our Vital fitness room and take part in the aqua fitness, Nordic walking, breathing gymnastic or discover the countryside by bike!
Therapeutic department of Hotel Quelle:
In the therapeutic section of CE Quelle Hotel Heviz specialist and well-trained therapists ease the pain of the guests with traditional medical treatments of Heviz, applying the medicinal water and the medicinal mud of Heviz.
Arnica Therapy offers a wide range of medical treatments (e.g.: ultrasound, electric treatment, sulfur packing, gymnastic in group, CO2 bath).
The salt cabin is extremely effective in case of respiratory diseases, the magnetic treatment eases rheumatic complaints. We recommend our different medical massages in case of joint pains. Medical treatments are supervised by specialists.
Medicina Clinic is located only 100 meters from the 4-star wellness hotel in Heviz. The clinic offers numerous high quality health care treatments for the patients. In the therapeutic clinic dentistry, optic, rheumatology, cardiology, dermatology, plastic surgery, urology and cosmetology operates on three floors.
Conference facilities:
Conference and session rooms of CE Wellness Hotel Quelle are ideal places for smaller events, company trainings, lifestyle programs and for different presentations. CE Quelle Hotel provides modern technical equipments for these events. Due to the large panoramic windows our rooms are naturally lighted.
The room rates include: accommodation, half board, use of the hotel's wellness department (spa relax pool with medicinal water, jacuzzi, Finnish sauna, infrared sauna, aroma cabin, steam-bath, experience shower), fitness room, salt cabin, bathrobe, safe and VAT.
Local tax (above 18 years): HUF 500.-/person/night
Apartment supplement: HUF 6000.-/room/night
Pets (dogs or cats): HUF 3000.-/night
Parking: HUF 990.-/car/night
Children's discount (in the parents' room in extra bed):
0-4 years: HUF 3000.-/night
4-14 years: HUF 6000.-/night
Check in: from 14:00
Check out: until 10:00
Accepted credit cards: MasterCard, MasterCard Electronic, Maestro, Visa, Visa Electron, JCB
In case of 1-6 nights staying bookings may be cancelled or changed up to 3 days prior to arrival. In case of a staying longer than 6 days the booking may be cancelled or changed up to 7 days prior to arrival. In case of late cancellation a cancellation fee, 30% of total price, applies. In case of no-show the penalty is 50%.