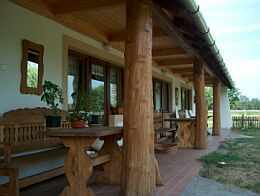 Szabó Lovas Panzió ~ Riding pension
About Hévíz
Hévíz lies just 6 km from the northern shore of Lake Balaton. Here you can find the largest and best known medicinal bath of Hungary. The thermal lake covered with water lilies is the largest lake with peat bottom in the world. Daily 80 million liters of medicinal water gushes to the surface. The temperature of the rushing water is 36 degrees. The medicinal water has a special curative effect on the different kinds of rheumatic, locomotor, muscle and nervous system's disorders and gynecological problems. The number of the visitors of the bath is 1,200 thousand a year.
The pension
The riding pension is located in a wonderful and quiet environment, behind Hotel & Spa Lotus Therme, only a few minutes walk from the Hévíz Health Spa.
The pension offers six comfortable apartments that are suitable for 2-4 persons. The apartments are equipped with kitchen, shower and television. The pension also has a tavern that can accommodate 50 persons. Breakfast or half board - with dinner of Hungarian cuisine - can be ordered.
The horses
Eight, well-trained, gentle and safe Kisbér half-breeds are accommodated in the 16-stall stable adjoining to the pension. The stable is suitable for accommodating the guests' horses too.
One-day riding tours are organized for skilled riders to Lake Kis-Balaton and to the neighbouring villages (10-30 km).
The pension welcomes also the beginners. After assessing their riding skills instructions are on a lunge or in classes. The level of instruction is adjusted to their individual skills. Participiants must provide their own accident insurance.
Styling of riding: English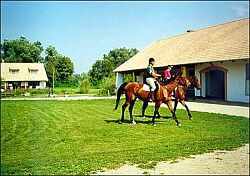 The apartment prices include the breakfast.
Payment: only cash
Pets: 5 EUR/night.
Local tax (above 18 years): HUF 500.-/person/night.
Instruction: 11 EUR/30 min.
Riding in classes, in square: 9 EUR/30 min.
Outside riding: 12 EUR/hour.
Carriage: 9 EUR/person/hour (min. 4 persons).
Guests get 10% discounts from the riding prices!