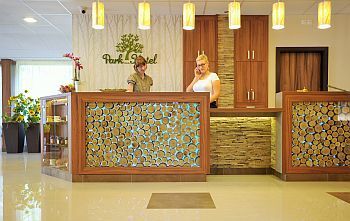 Park Hotel Gyula *** - discount packages in Gyula
Position:
Park Hotel Gyula awaits its guests 16 kms far from Bekescsaba, the capital of Bekes county, in picturesque surrounding in Gyula, oppposite to the Castle Bath (Varfurdo), in the middle of Snailgarden (Csigakert). The hotel can be easily approached both by public transportation and by car from Budapest.
Rooms:
In Park Hotel Gyula 58 rooms are available. All guest rooms at Park Hotel are non-smoking rooms, guests can choose from rooms with a view of the Castle Bath or the Snailgarden. The connecting rooms are ideal for families.
All of the hotel rooms are equipped with colour TV set, hair dryer and fridge, furthermore the hotel offers Internet connection, safe service, parking possibility and elevator in the building.
Gastronomy:
The restaurant of Park Hotel offers the specialities of the Hungarian and the international cuisine and also vegetarian dishes.
Besides, the restaurant pays a special attention to the special needs of guests who are diabetic, sensible for egg-, milk- ot fluor products.
In summer intimate terrace awaits its guests with a beautiful view to the park of Almassy Castle. The Four Season Lobby & Bar offers a pleasant opportunity to relax.
Free time services:
Park Hotel Gyula offers a summer cold-water pool, a sauna, deckchairs and a Jade stone massage-bed to the guests wishing to relax.
Conference facilities:
The conference rooms with a capacity of 120 people are ideal for organizing different events. The conference rooms are equipped with flipchart, projection screen, board and internet connection.
Room rates include: staying with half-board, usage of the outdoor pool (in the season), parking, WiFi Internet connection, usage of safe, VAT.
Local tax: 450 HUF/person/night (over 18 years) extra to pay.
Extra bed: not available for adults.
Children prices, including half board:
between 0-2 years gratis in baby bed,
between 3-13 years 5000 HUF/person/night in extra bed (in high season 6000 HUF/person/night)
between 3-13 years 7000 HUF/person/night in main bed (in high season 8000 HUF/person/night)
Air conditioning in the room: 1600 HUF/ room / night.
Pets: 4000 HUF/night.
Bathrobe use: 700 HUF/ piece.
Usage of Jade bed: 1000 HUF/ 20 min., 2000 HUF/ 40 min.
Usage of sauna: gratis in the afternoon, in other periods 2000 HUF/ room / 90 min.
Rent-a-bike: 500 HUF/ 2 hours, 1000 HUF/ 5 hours, 2000 HUF/ day.
Check-in: from 15.00.
Check-out: till 10.00.
Terms of payment: In case of reservation the hotel requires 30% prepayment. Cancellation policy: Prepayment is NON-REFUNDABLE. In case of written cancellation more than 14 days prior to arrival date, the total amount of the prepayment can be used by the next reservation of min. the same value within 6 months after the cancellation (depending on availability). In case of late cancellation or no show, the prepayment is non-refundable.