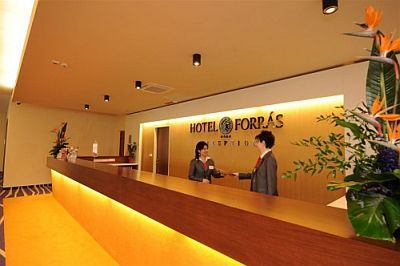 Hunguest Hotel Forras **** superior - Szeged
Location of Hunguest Hotel Forras **** superior Szeged:
Hunguest Hotel Forras can be found at the riverside of Tisza, in a suburbian green belt area, in New Szeged, about 8-10 minutes walk from the downtown. The hotel is connected to the Napfenyfürdö Aqaupolis by a covered, heated corridor, which is one of the biggest bath complexes of Hungary, so its facilities are available free of charge for the guests of Hotel Forras.
About Szeged:
Situated on the southeast part of Hungary, about 170 kms away from Budapest, the city of Szeged is also mentioned as the capital of the Hungarian Great Plain. Szeged is the city of culture, science, arts and sunshine. It is stretching on the two shores of River Tisza and is home of the famous Open-Air Festival and International Fair.
Rooms of Hotel Forras:
Hotel Forras has 196 air-conditioned rooms including double rooms, apartments, luxurious suites, connecting rooms and specially-equipped rooms for handicapped guests. The basic equipment of the rooms includes air-conditioning, wireless (WIFI) internet, LCD television, safe in the room, minibar and hair-dryer. One part of the apartments and luxurious suites has a jacuzzi and/or a fireplace. The rooms with jacuzzi or fireplace can be booked for extra charge.
Our luxurious suites are the followings:
Forras Corner Suite: 3-roomed suite with an inside jacuzzi and a fireplace
Forras Panorama Suite: 2-roomed suite with an outdoor jacuzzi
Forras Sunshine Suite: 2-roomed suite with an outdoor jacuzzi and a fireplace
Forras Sunset Suite: 3-roomed suite with an inside jacuzzi
Forras Presidential Suite: 3-roomed presidential suite with an indoor jacuzzi and a fireplace.
Gastronomy in Hunguest Hotel Forras:
The restaurant of Hotel Forras has a capacity of 400 people and awaits the guests with traditional Hungarian tastes and international dishes. In our hotel you can pick from the buffet table, can choose from different menus or à la carte. The garden of Hotel Forras is peerless in Szeged: there is a party tent which is suitable for the reception of 100 people and operates from spring till autumn. Regarding the whole capacity of the garden, it can be appropriate for the organization of family and corporate events, weddings and grill parties with show kitchen till 300 people. In the bar of the four-lane bowling centre and in the lobby bar, we are with different kinds of alcoholic and non-alcoholic drinks and coffee specialities at the guests' disposal.
Wellness in Hotel Forras:
The four-star superior Hunguest Hotel Forras Szeged is connected to the adjacent bath complex (Napfenyfurdo Aquapolis) by a covered, heated corridor, so the guests of the hotel can use the adventure-, thermal-, swimming and children pools as well as slides of the bath in every season.
In the all-season "water empire" a new, inside adventure pool is formed with falls, twisters, hot beds and other adventure elements. The wellness-pool is connected by a swimming-out to the inside adventure pool. The 30m-high elevator-served slide tower is the starting point of 2 slides (a 272-m closed giant slide and a 218-m closed giant slide with kamikaze section) and there are other 7 slides starting from the gallery level. As part of the bath, in the hotel was made a quiet relaxation zone ("Silent Wellness"), which can be entered only by adults - above 16 years - to provide the relaxation of the guests in an undisturbed atmosphere. Available wellness facilities in "Silent Wellness": adventure pool and jacuzzi, Finnish sauna, steam cabin, outdoor log sauna, salt cabin, aroma cabin, tepidarium, wellness massages, baths and masks, Private Spa. During summer guests are awaited by the most popular beach of Szeged. At the beach training pool, adventure pool with 4 slides, swimming pool and children's pool can be found.
Treatments in Hotel Forras:
During the renovation a new therapeutic wing was also formed which has qualified medical water. Rheumatologists and physiotherapists await here the patients during their consulting hours, providing them with balneotherapeutic treatments. In the therapeutic wing a day hospital operates with 14 double rooms, so complex treatments are also available to the guests. Services in the therapeutic wing: medicinal gymnastics, under-water jet massage, physiotherapy, carbon dioxide bath, weight bath, mud wraps, under-water group gymnastics, medical healing massage. The water of Dora well is suitable for the curing of locomotor diseases and rehabilitation after injury.
Events in Hotel Forras:
The restaurant of Hunguest Hotel Forras with its capacity of 400 people, the conference- and section rooms (till 450 people), as well as the matchless garden of the hotel are perfectly appropriate for the organization of different events, conferences, weddings and garden parties. The event rooms of the hotel are air-conditioned, have natural lighting and are equipped with modern technical appliances (projector, microphone, flip chart and so on).
The roomprice includes: accommodation, rich buffet breakfast, limitless daily entrance (equalling with the number of roomnights) to the operating pools of Napfényfürdő Aquapolis Szeged (exclusive bath with slides, medical bath, outdoor swimming pools), entrance to the "Silent Wellness" part of Napfényfürdő Aquapolis Szeged every day once (equalling with the number of nights) for a 3-hour-long period ("Silent Wellness" can only be entered by adults - above 16 - to serve the pleasant relaxation of our guests. Services: adventure pools, jacuzzi, sauna, infra cabin, steam cabin, salt cabin, tepidarium, aroma cabin, outdoor sauna), WIFI internet access, bathrobe use and VAT. (On the day of departure only "Silent Wellness" can be used, until 11 a.m.)
Local tax: HUF 500.-/person/night
Half board: HUF 4700.-/person/occasion
Pets: HUF 5000.-/night in a special room only
Parking:
between 9:00-21:00 HUF 150.-/car/hour,
between 21:00-9:00 HUF 70.-/car/hour.
In the deep garage of Napfényfürdő Aquapolis: HUF 100.-/car/hour, between 21:00-9:00 HUF 50.-/car/hour.
Childrens' discount:
till 4 years accommodation and catering is free of charge
between 4-12 years 50% discount from the price of accommodation and catering
Payment: cash, credit card.
Cancellation is free of charge 24 hours prior to arrival. In case of late cancellation or no show the first night will be charged.