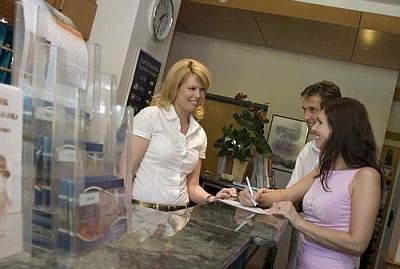 Hotel Spa Heviz

The 4-star Hotel Spa Heviz can be reached from Budapest in 1.5 hours on the M7 motorway The wellness and spa hotel is the only accommodation which is situated directly on the shore of Heviz Lake, so guests can enjoy the hotel's pampering wellness services and the curative treatments based on the healing water of the lake at the same place.

Rooms in Spa Hotel Heviz:
Hotel Spa Heviz has 54 non-smoking, air-conditioned rooms and apartments. Some of the guest rooms have a balcony offering panoramic view of the beautiful and unique Heviz Thermal Lake. The rooms are equipped with LCD TV, minibar, telephone, bathroom with bathtub or shower, safe, bathrobe and hairdryer.
For families or larger groups are spacious apartments with separate bedrooms available.
Disabled guests are greeted with special and comfortable rooms.

Wellness treatments and therapies in Hotel Spa Heviz:
Hotel Spa Heviz offers a numerous amount of traditional medical treatments, used the water of Lake Heviz.
The medicinal water has a special curative effect on different kinds of rheumatic, locomotory and muscle disorders, inflammatory joint and spine diseases, skin diseases and gynaecological problems
Besides the traditional cures and rehabilitation treatments, Spa Hotel Heviz offers drinking cure and special treatments, such as "Osteoporosis" program and "For healthy spine" program.
The pampering spa services of Hotel Spa Heviz help guests fully recover.
For the perfect relaxation, the spa hotel offers not only the thermal bath, but also jacuzzi, neck showers and massage jets are responsible. The sauna cabins with aromatic infusions (Finnish sauna, infrared sauna) detoxify the body.
Guests can also choose from plenty of cosmetics treatments: deep cleaning and toning facials, body wraps and refreshing massages.
The active recreation-lovers can attend the hotel's fitness programs free of charge, such as Nordic walking, stretching, water aerobics, yoga and Pilates.

Gastronomy in Spa Heviz Hotel:
The chefs of Platan Restaurant await the guests with the finest and freshly prepared meals with the freshest ingredients, combining the national and international cuisine. Furthermore coffee specialities, pastries and ice creams are offered for achieving the perfect culinary experience. During the summer months, guests can enjoy a unique dining experience on the terrace of the restaurant where - after a fine aperitif drink - can taste the grilled dishes and the courses cooked in a stew-pot on an open fire with live music accompanying the dinner. The hotel's professional consulting staff helps guests with special dietary needs.

Conferences and events in Heviz Hotel Spa:
The conference rooms are ideal venues for events, business meetings and family celebrations up to 200 people. The rooms are equipped with projection screens, wireless microphones, speakers, projector and flip chart. During the events catering services can be required.
The room rates include the accommodation with half board, welcome drink, daily entrance ticket to Heviz Spa (3 hours), unlimited use of spa facilities (spa, jacuzzi, Finnish sauna, infrared sauna), bathrobe use, free participation in sports programs (Nordic Walking, water aerobics, yoga and pilates), parking and VAT.

Local tax: HUF 500.-/person/night, above 18 years.
Single bed supplement: EUR 12.-/person/night
Extra bed: out of high season EUR 25.-/person/night, in the high season EUR 30.-/person/night
Pets are not welcome.

Discounts for children (in the parents' room):
Under 6 years gratis.
Between 6-12 years: 50% discount from the "person/night" price
Between 12-14 years: 25% discount from the "person/night" price

Check-in: from 14.00.
Check-out: until 11.00.

Accepted credit cards: AMEX, EC/MC, Visa, Diners Club International
Cancellation policy: Cancellation is free of charge 14 days prior to arrival. In case of cancellation within 14-8. days prior to check-in date 60% of total price will be charged. In case of cancellation within 7-1. days prior to check-in date 80% of total price will be charged. In case of cancellation less then 24 hours prior to arrival or in case of no show the whole price will be charged.