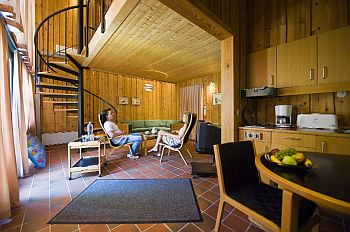 Club Tihany Bungalows**** - TIHANY - Lake Balaton
The four-star Club Tihany is situated on the top of the Tihany-peninsula that was declared to be a national park in 1952. The Hotel Club Tihany and holiday centre complex, lying on 13 hectares, offers everything that guarantees a great holiday.
The 160 bungalows of Club Tihany are equipped with kitchen, bathroom and living room, so everybody can feel just like home. The chip-card key system is for the security. TV, radio and telephone can be found in every house.
In the well-equipped kitchen all appliances are available: fridge, electric oven, toaster, coffee machine and cutlery for basic meals. Your pets are also welcome
Types:
ATRIUM house (95): with air-conditioning, 2 persons in separate beds, 2 persons in double bed, 1 person in spare bed in the living room (61 m²)
BOR 'A' house (10): 2 persons in separate beds, 1 person in spare bed in the living room (45 m²).
BOR 'B' house (8): 2-2 persons in separate beds in the bedroom and in the living room, 1 person in spare bed in the living room (57 m²).
KALMAR house (47): next to the forest, in romantic surroundings. Small wooden houses: 2 persons in separate beds in the bedroom, 1 person in spare bed in the living room (41 m²).
Átriumház / Bor "B" ház max. 4 + 1 fő részére
BUNGALÓ ellátás nélkül, ház /éj
2016. 04.30.- 2016. 06.17. 22.000 Ft
2016. 06.18. 2016. 06.24. 27.000 Ft
2016. 06.25. 2016. 07.08. 36.000 Ft
2016. 07.09 2016. 08.19. 42.000 Ft

Kalmárház max. 2 f.+2 gy.(10 év alatt) részére Bor "A" ház max. 2 + 1 fő
BUNGALÓ ellátás nélkül, ház /éj
2016. 04.30. 2016. 06.17. 17.000 Ft
2016. 06.18. 2016. 06.24. 20.000 FT
2016. 06.25. 2016. 07.08. 26.500 Ft
2016. 07.09. 2016. 08.19. 28.500 Ft
Gastronomy:
"OLD CAPTAIN' restaurant
Buffet breakfast: 07:00 -10:00
Buffet dinner: 18:00 - 21:30
"OLD CAPTAIN" wintergarden
Buffet breakfast: 07:00 -10:00
Buffet dinner: 18:00 - 21:30
CLUB CAFÉ
Open: 09:00 - 23:00
Excellent cocktails, drinks, coffee specialities, cakes, sandwiches
"BEACH GRILL' restaurant
Open: 17 May - 14 September, daily 11:00 - 18:00
Excellent foods, drinks, ice coups
POOL DRINK
Open: 17 May - 14 September, daily 10:00 - 21:00
Excellent drinks, ice coups
"BUTTERFLY" NIGHT CLUB
Open: 21:00 - 03:00, Monday closed
Excellent cocktails, drinks, Disco music
From this year on, the children and teenagers will be getting more attention than ever before! Even more animators and other varying programmes assure the children and teenagers have an experienceful vacation in the high season.
We divided the youth, according to age, into three groups:
Balaton Dwarfs - Mini Club
The Mini Club awaits children of the age between 3-6 in a new location, with an animator for children. Adults, of course, are also welcome!
Balaton Pirates - Midi Club
Recommended for children between the age of 7-12, where they can find occupations they enjoy.Two of our well-trained animators for children see to it that this summer be one they never forget.Occupations in groups: -painting, drawing, glueing, folding, boardgames, games for developing logic and talent, playing with clay, reading, animation films...etc. Outings, going to the beach, Midi-disco, practicing the Club dance, preparing for the stage performance of the evening. Ponyrides and pleasure drives: we recommend this adventurous outing of the afternoon to the children.
Maxi Club: Programs for the young
Lots of interesting programmes await the teenagers also: disco, hiking, volley-ball, sport programmes, and the Teens can choose the amusements they most like, with the guidance of an animator.
Club Tihany Program-Office
We are glad to welcome you in our hotel, on the island of meriness. In the beautiful surroundings there are many kinds of sights so besides the bathing we are waiting for you with many ways of active recreation.
Our brochure contains full-, half-day and exclusive excursions, programs for children organized by the Program Office. You can participate on these tours traveling with the Club's air-conditioned coach and benefiting the high standard program arrangements and our qualified tour-guides.
You can book these tours and excursions in the program-bureau and get further information about all other tours described in detail in this brochure and in other available publications.
Wellness, Beauty, Recreation
Wellness: lymph drainage, foot reflex-zone massage, Thai-, Japanese-, Chinese and Swedish massage.
Beauty: face treatments, hairdresser, manicure, pedicure.
Recreation: aroma bath, Cleopatra bath, sea-salt bath, alga bath, hidroxeur tube bath, ritex, mud bath, bioptron lamp treatment
Cure Center
Our SPA Center has been built upon the own medicinal water surface in 1997. The temperature of the medicinal water is 30-32°C, with high level of sodium hydrogen carbonate, calcium, fluorine and trace elements content. Our well-qualifinied doctors, assistants, massuers and modern equipments help our hotel guests to recover and recreate.
Physiotherapy: healing massage, segment and connective tissue massage, therepeutic gymnastics
Hydrotherapy: under water massage, weight bath, hidroxeur tube bath, carbonated sparkling bath, 4-chambered galvanic bath, alga-bath, relax bath with sea salt , mud-bath
Electrotherapy: combinated electrotreatment, interference, TENS, diadynamic, selective nerve stimulation, iontophoresis, short wawe, sonodynator, ultrasonic treatment, ECG
Packs: parafango, ritex
Additional therapy: laser treatment, infrared treatment, Bioptron lamp treatment, injection.
The above treatments can be also required in health cure packages!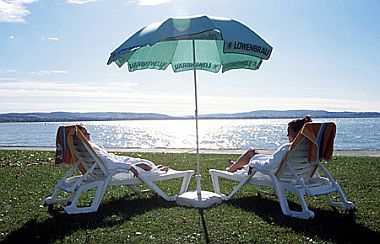 Attention!
Rates payable in HUF according the current exchange rates of the Hungarian National Bank.
The bungalow prices include: use of swimming-pool, fun bath, sauna, infra sauna, jacuzzi, steam bath, fitness-room, open-air sporting facilities (except Sport Center), water-slide, deck-chairs on the beach, VAT.
The bungalow prices don't include board!
Local tax: 500 HUF/person/night extra to pay from the age of 18 years
Parking: 500 HUF/car/night

Breakfast: 8,50 Eur/person/occasion
Half board (breakfast + dinner): 25 Eur/person/occasion
Pets: 2 Eur/night.
Heating: 10 Eur/bungalow/day (1 May - 30 September)

Childrens' discount from the price of the board - discount for max. 1 person with 1 full price paying guest:
0 - 6,9 years: 100%
7 - 11,9 years: 50%

7=6 discount during the whole opening period.

Check-in: from 16:00
Check-out: until 10:00
Your booking must be guaranteed by a 30% deposit which can be payed either by credit card or via bank transfer. Your booking will only be valid either in case of successful credit card charge or if the deposit payment is received until the payment due date. Cancellation Policy: Free-of-charge cancellation is possible up until 28 days prior to your arrival date. After this time the cancellation fee is 30% of the total booking value.